Breakdowns
The last thing you need in business is for your hydraulic packs to fail due to lack of regular maintenance leading to a loss in production time, but inevitably it happens. Just one quick call to CFP and one of our experienced engineers will respond to your needs ASAP to get your equipment up and running, keeping your production processes as cost effective as possible.
Servicing
As with any mechanical equipment, power packs wear and need regular servicing to keep them in peak condition. Regular servicing including flow, pressure, oil condition and system setting checks, along with replacement of oil and filters ensures that problems with your hydraulic equipment are detected prior to them becoming terminal; saving you costly down-time.
Due to the pressures of running production processes, service needs completing with the minimum amount of fuss or disruption. Because we understand your needs, your packs can be serviced by our engineers either on site or alternatively the pack can be removed and serviced back at our fully equipped workshop, ensuring it is in perfect condition prior to return and re-commission. And to ensure you get the best possible service, a pre-service survey can be done so that you fully understand what needs to be done and any down time involved allowing you to accommodate for it in your production runs.
So whether you have a breakdown that needs to be repaired or equipment that needs regular servicing, our stringent service quality control processes mean that you will always be guaranteed total satisfaction, a professional service and inevitably equipment that won't let you down.
So give CFP a call today to discuss your requirements, we guarantee you won't be disappointed.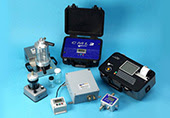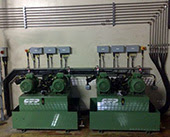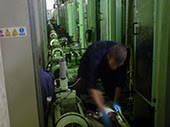 Pipework Installations
If you're undertaking a complete overhaul, new install or simply replacement of existing pipework, our experienced pipe installation team are available to complete the task efficiently and safely. With a wide range of installation experience, we are able to complete all your pipework fitting, testing and commissioning to the highest of standards for all types of hydraulic pipework.
Contamination Control
With the ever increasing need to prolong the life of hydraulic power units and provide trouble free operation, oil contamination control can add years of service to your hydraulic equipment. Particle counters enable hydraulic units to be tested during operational cycles and detailed analysis of the oil conducted giving a clear indication of the "state of health" of the unit.
Once the test has been completed and the results analysed, you will have a detailed breakdown of any preventative measures that need implementing and the timescale at which they need completing. If your equipment is simply in need of an oil or filter change, this will be carried out immediately and then re-analysis done once a further run cycle is completed.
Oil particle measurement provides:
Full test results of each machines oil cleanliness
Completed documentation and reports on all equipment tested
Detailed and complete logs of equipment history to be maintained showing:
Oil contamination trends for each unit
Optimal service intervals
Early warning of any major component failure
Documented specifications of the oil cleanliness level for each unit dependent on:
Expected lifespan of unit
Duty cycle of unit
Operational pressure requirement of unit
Component sensitivity
Environmental contamination