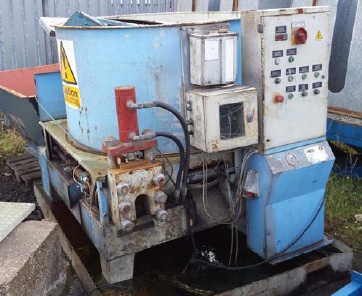 METALPRESS HTP 400 SUPER BRIQUETTING PRESS
Filed under - For Sale
September 9, 2015
We have a used briquetting press available for sale.
This Metalpress HTP 400 Super Briquetting Press was initially manufactured by COMAFER Spa. in Italy circa 2003. This briquetting press is 1,370 mm wide by 2,000 mm deep by 1,500 mm high, it has a 0.7 cu.m feed hopper and the total electric motor power is 9.3 kW, 400/3/50 VAC. It was initially manufactured for aluminium swarf and was making 70 mm diameter by 50 mm long aluminium briquettes at a rates of between 100 and 400 kg per hour when it was taken out of service but it could be used with a wide variety of different materials if required.
The photographs show the machine in its' pre-reconditioned state and it will be possible to run material through it in our factory to confirm its' suitability before paying for it. A copy of the original handbook will be provided.
Price fully refurbished – £ 19,250 net, ex works, sold as seen