Twin Rotor Wood Shaving Machine
Filed under - Sold
An ex demonstrator 'CleanFlake TR' Series, Twin Rotor Wood Shaving Machine
An ex demonstrator 'CleanFlake TR' Series, Twin Rotor Wood Shaving Machine is available
for sale with approximately 5 hours run time.
This machine has been designed with a removable 'Cutting Rotor Carriage' for fast and
efficient blade changing. Twin Rotors with new 4, 6 or 8 blade cutting rotors fitted, according
to customer specifications.
Price: £ 34,900 net, ex works, sold as seen (with 4 blade rotors and upgrade to 6 or 8 blade
rotors at extra cost if required)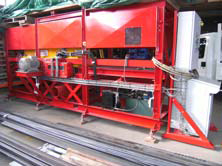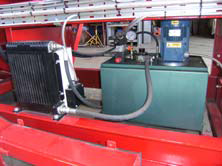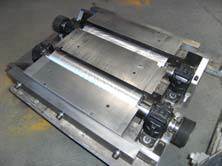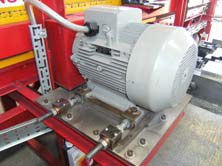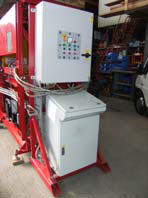 Brief machine specification:
* 2,000 mm long log hopper with sound absorbing liner
* Variable speed, hydraulic rack & pinion drive for log hopper
* 2 x 'Camozzi' pneumatic dampers for log hopper
* 'Telemecanique' 75 kW inverter drive for main motors (this will drive up to 2 x 30 kW motors
if machine is upgraded)
* 2 x 'Siemens' 17.5 kW motors (for rotor drive)
* 'Contitech' PL-16 multi rib, high speed belt & pulley system
* 'SKF' SNL-series cast iron bearing housings with 'SKF' high speed cylindrical roller bearings
& high speed 'Labyrinth' sealing system
* 'Colton Tooling UK' 30 degree, hard alloy 4,6 or 8 blade cutting rotors, mounted on 75 mm
'EN24' high speed shafts
* Main Frame approximate dimensions – 1,100 mm wide (plus 550 mm either side for motor
beds) by 5,800 mm long by 2,400 mm high