We use moog equipment in our bespoke equipment, and we are an authorised distributor. Please contact us if you have specific or bespoke requirements with regards anything in the MOOG catalogue.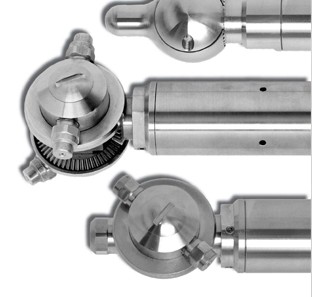 Mode of operation and use
MOOG tank washers work with a spray head that rotates in three dimensions, driven by an electric or compressed air motor.
Through the simultaneous movement in all rotation axes, a 360 degree spray pattern is formed, thereby thoroughly cleaning every location and every corner inside the tank.
This guarantees the most rational, effective and economic cleaning of the inside of tanks, silos, IBC, tanks, barrels and all other types of containers.
MOOG tank washers can be connected to any commercially- available high-pressure cleaner or any stationary high- pressure pump.
MOOG tank washers are available in various standard shaft lengths, as well as in special lengths. You will therefore always be able to find the right insertion length for your application.
Whatever the requirements for cleaning the insides of tanks and whatever their size, MOOG has the right spray head available. These vary in their maximum flow rate and maximum working pressure. And where no series products can be used, we can also offer customized versions.
MOOG tank washers are also available with ATEX certification.